Housing Market Update
Real Data Analyzed
By Cyrus Bonnet
---
Last months market update was great news as pending sales were climbing quickly and rates were coming down. Optimism for everyone; however,  interest rates began to climb around February 6th for nearly a month,  but the feds also announce they will likely go up more last Tuesday which dampened optimism. Then the fail of SBF bank plus inflation numbers reportedly down caused rates to do a half point drop and continue. This bail out may force the feds to change course on planned rate hikes. We will see.
I feel next months data will show increase in pending sales but at a slower rate for March's numbers. I feel we are still in for a roller-coaster ride for the 2nd quarter of the year. I feel peak selling markets will be closer to end of April to end of May instead of mid April.
Local Data
Pierce, Thurston, Kitsap Counties
Pending Sales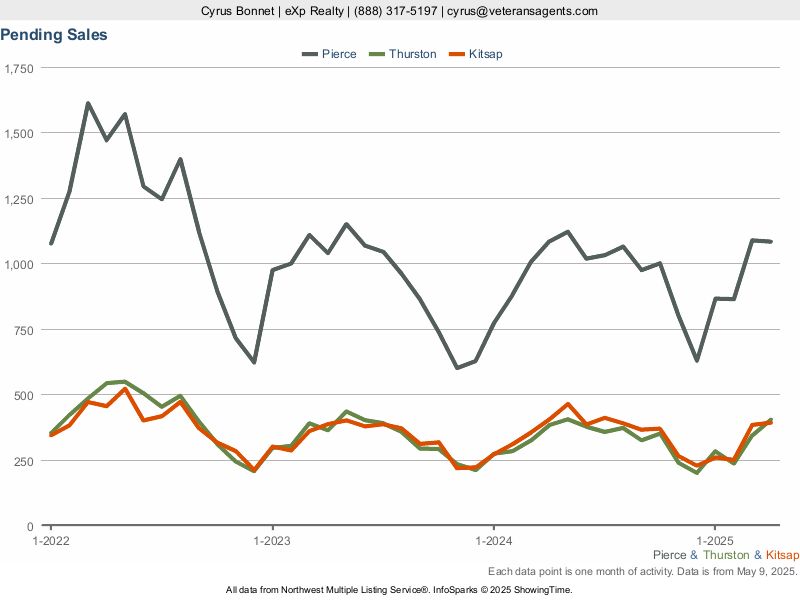 Pierce County 1058 (-17% Since Feb 2022) (Up 6% from January 23)

Thurston 319 (-22.7% since Feb 2022) (Up 9% from January 23)

Kitsap 300 (-20.2% since Feb 2022) (down -2.3% from January 23)
Homes For Sale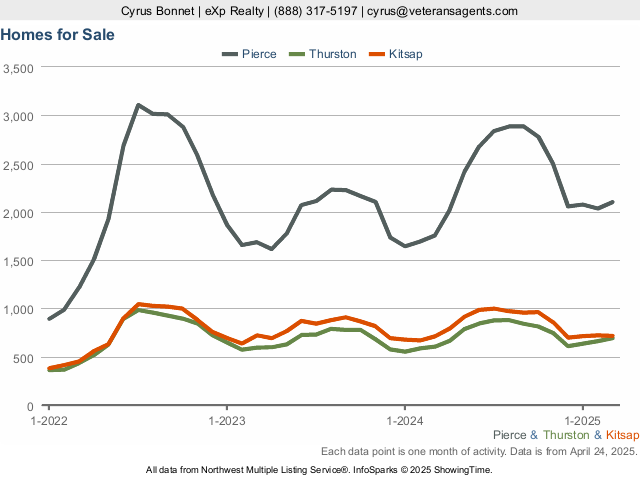 Pierce County 1625 (+63.8% Since Feb 2022) (down -31.3% from January 2023)

Thurston 511 (+56.7% Since Feb 2022) (down -20.3% from January 2023)

Kitsap 632 (+51.9% Since Feb 2022) (down -20.5% from January2023)
Days on Market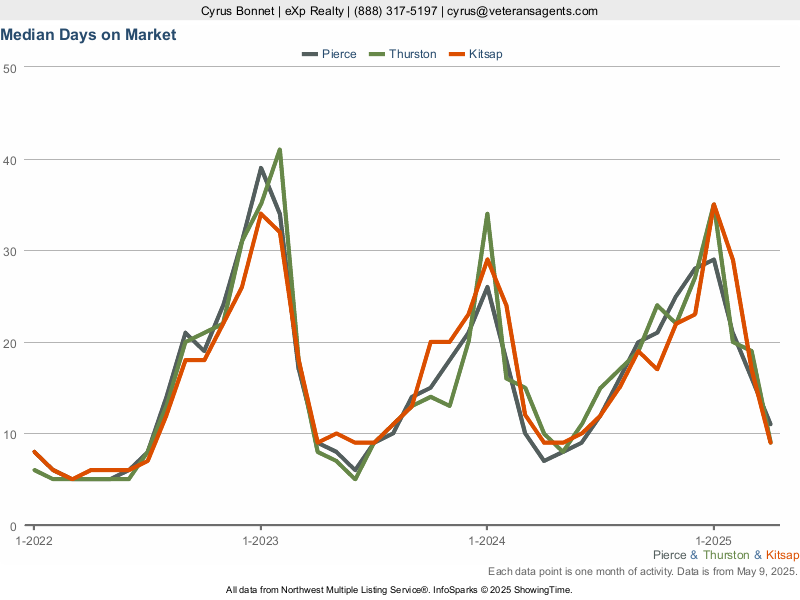 Pierce County 34,  (+466.7% since Feb 2022) (down 5 days from January)

Thurston 41, (+720% since Feb 2022) (Up 4 days from January )

Kitsap 33, (+450% since Feb 2022) (Up 2 days from January)

To avoid getting beat up on price and paying closing costs, discount points and repairs, proper pricing will be absolutely key for Spring sales. Try not to get in the trap pf online valuations models (especially realtor.com right now) or sleazy car sales like real estate agents promising you a higher price just to get you to sign and reduce price later, sighting interest rates or housing market slow blah blah blah. Homes are still getting sold under 14 days and at or over list price if priced correctly.
List Price to Sale Price Ratio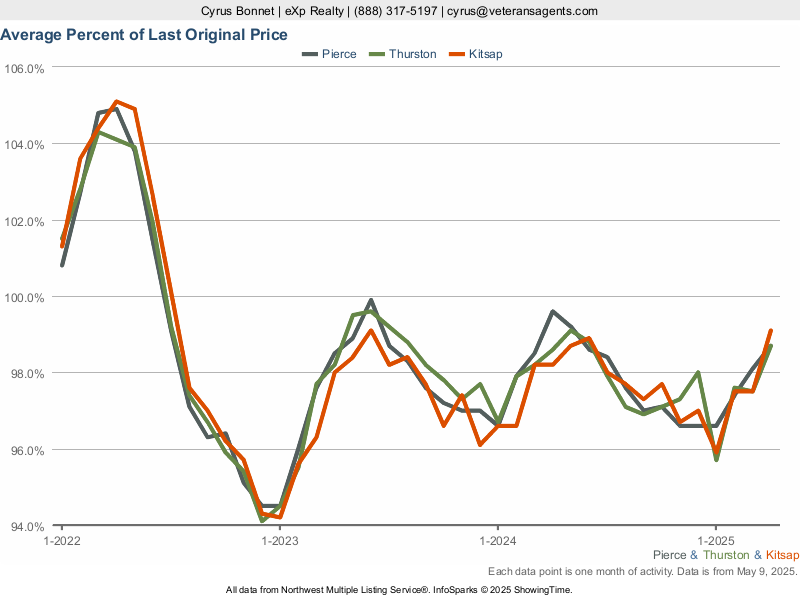 List price to sales price ratio is if a home sells for more or less then list price. 100% means it sold at list price.

Example: If a home is listed at $500k

A 105% list to sale ratio is +5% over so $25,000 over = $525,000.

A 95% or -5% list to sale ratio would equal $475,000
Pierce County 97.6%, (-4.3% since Feb 2022) (Up 1.8% since January 2023)

Thurston 96.8%, (-5.3% Since Feb 2022) (Up .07% since January 2023 )

Kitsap 96.8%, (-6% Since Feb 2022) (Up .07% since January 2023 )

It would appear we hit bottom in January when numbers where sitting in the 95% range. They are anticipated to rise with historical norms.
Average Sales Price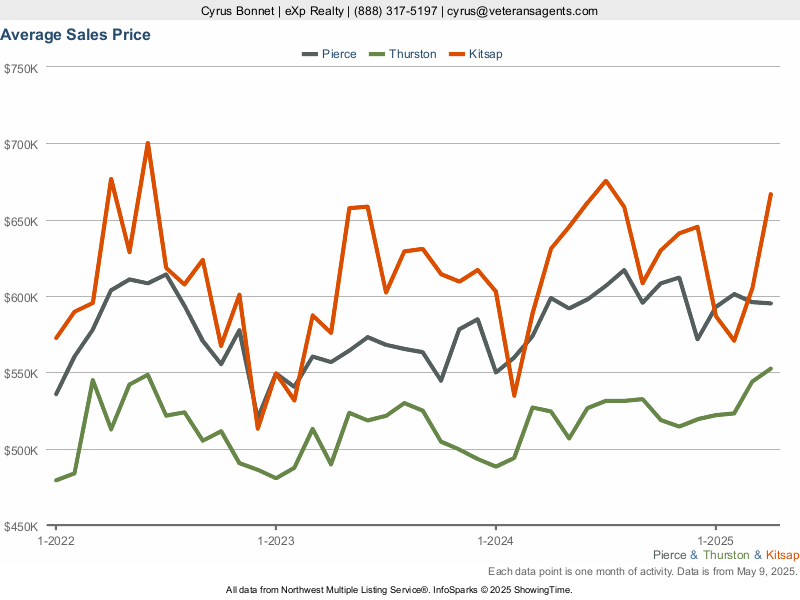 Pierce County $507,500 (-2.4% since Feb 2022)(Up .5% since January)

Thurston $460,000 (-4.4% Since Feb 2022) (Down 1.2% since January)

Kitsap $480,000 (-7.7% Since Feb 2022) (Up .02% since January )
We can see that the values of houses have not dropped or increased greatly from this time last year or this time last month which is great news for sellers we are seeing the list of sales ratio dip down to 95% last month and slowly creep up for February which indicates the market is still adjusting to increase pending cells Realtors and appraisers are still trying to hone in on pricing tied in with historical increases in the first quarter of the year. Anticipate it to still be inconsistent  for another month or two especially with the feds and interest rate hikes after a glimmer of hope in interest rates from months prior.
---
Mortgage Rates Update +-
Interest rates started their climb again on February 10th.
 Mouse over Interactive chart for today & past rates (Turn phones sideways)
---
Housing Headlines 
---
Buyers
I cannot stress enough that there is great opportunity along with risk today. We are short 6.5 million units in the US and the housing market will flourish back into a massive bidding war and complete seller's market like we saw during covid. Unless some catastrophic event would occur. People need housing. You really should consider getting pre-approved today so you can instantly  jump on interest rates when they drop like they have the last 2 weeks. Even if not it'd be better to take a higher interest rate and a house that you want,  that you can negotiate price, incentives, repairs, etc.  Then get trapped in a bidding war paying excess amounts of $100,000 over asking price, waving home inspection  and other very important addenda's, paying $50k+ on low appraisals, house that don't fit all your wants and needs, and it costs you more then one you do.
The chart below shows you list the sales ratio in March 22 reached 107%. That's 7% over lists price average. On a $400,000 house that's $28,000. So $428,000 for a house that doesn't fit your needs or wants and likely 5 to 10+ lost offers on previous homes.
Days on market for homes right now are $466% higher than they were last year. Averaging 34 days. This gives us negotiating power for the seller to pay  incentives to buy down your rate and or price reduce. Below are some clients I got under contract with a 321 loan type. This got their interest rate down to 3.95%.  Huge savings!!
Our clients fell in love with a brand new home over roughly 10 other homes. But the interest rate hikes moved their budget too far out of reach for the home. This particular property had an excess of days on market enough to facilitate me negotiating the seller pay $20,000 for buyer incentives. This equated to $13,000 towards a mortgage called a 321 buy down. And another $7,000 towards closing costs.
Interest rate was 5.95%. The $13,000 bought the rate down to 3.95%  for the first year, 4.95% the second year and 5.95% the 3rd year. Which brought their payment way down with the intent to refinance before  the 3rd year. Rates are anticipated to go down after inflation is tackled.
So yes, as of today when we close our clients will have a 3.95% interest rate on a brand new home. There's more information about how to utilize these programs  and more to understand about refinance costs and recoup timelines. So please connect with us to get you in front of the right lenders with the right negotiators.
---
Homeowners & Sellers
Though the overall Outlook on a lot of this seems bad the most important part to understand is the average sales price from this time last year to now is relatively unchanged. They've even came up from January. Your appreciation levels is all that has slowed. Days on Market are up. But overall as of today the housing market is not collapsing like it did in 2008. The key right now that is pivotal is proper pricing. A problem we have right now for sellers and the cause for days on market being high,  list to sales ratios being down,  is initiated by fear and interest rates. But the industry has a lot of agents (33,593 in Wa State alone)  many who are part-time, new with no market fluctuation experience (only lived in a sellers market), car salesy real estate agents (promise high unrealistic prices)  and more in real estate.  They are also not marketing properly and with the two combined we are seeing higher days on market for some that shouldn't be and list the sales ratio being down. So it is important to ask certain questions.
A few Top Questions:
Experience: time, market knowledge, marketing, handling negotiations etc.
Data – what are your lists to sell ratios days on Market, Etc
Full-time or part-time?
Reviews and references?
What all do you provide in marketing?
Key Takeaways:
Proper pricing and good marketing of your home is key
It's still a sellers market
Prices have not dropped. They are actually going up.
There are 33,593 licensed real estate agents in WA state. Pick Wisely.
We are still in a sellers market technically.
We have some great options and incentives available to sellers right now. See Below
Options and Incentives
By before you sell with a guaranteed sell – we partnered with HomeLight to introduce a program that offers you to purchase a home before you listed on the market with a guaranteed sell.
We are also offering home facelift package for free when you list with us.

Pressure wash walkways, driveways, & House
Remove up to a trailer load to the dump of trash and debris removal.
Clean Roof and gutters
Spruce up landscape with lawn services and mulch.

Our Handyman is also available for other services and affordable. For but not limited to:

Packing and moving
Non permit minor house repairs ie drywall, interior exterior paint
Larger landscape projects.
---
Personal Outlook
Mortgage Interest rates started to drop in early January which prompted an optimistic start to the year and pending sales began to rise in align with historic norms for 1st quarter sales which was great news. Its been all eyes on the spring market to see how the real estate market is fairing the economic storm and the real estate slump's for the last 6 months (primarily due to interest rate hikes and recession fears)  However February 10th they started their hike again and news broke this last Tuesday the feds are likely to continue to raise rates. View article Here  Now all eyes are on the banking collapse. This is a new string of issues that are creating our roller-coaster. More to come as it plays out.
Shortly thereafter I  noticed pending's home sales slow down for about a week to picking right back up although at a slower pace. As we approach Spring we naturally see pending sales go up, but with rate hikes and feds announcement its hard to say how buyers will react. I feel we will still see pending sales grow but not at the same trajectory as it was showing before the hike and news. We have started to see bidding wars for properly priced homes however.
I've been saying it for years and now people are noticing. I've been telling people since 2017 best times to sell and buy as could analyze the data. Now you are seeing economist finally suggesting the same.  I created this chart in 2020 and again in 2022.
This year I feel the sweet spot will be end of April  to end of May as things play out with interest rate fluctuations and the new banking crisis. Typically we see mid April as the Sweat spot.
This is so much information to take in in a market update like this. There's a lot more details to go over questions to be asked of me and directions to be given to land at your desired outcome. Please connect with us so we can go any further details of how we could be of help to you.
Cyrus & Jenna
Connect with us
253-766-5133
Disclaimer: the entire team at veterans agents and Associates have produced this for informational purposes only. They are not to be relied on for any financial decision making. Your advised to seek experts in their fields such as financing real estate attorneys Etc. This market update should not be relied on in any way to make full broad decisions without speaking with a professional first.