Housing Market Update
By Cyrus Bonnet
Full Market Data Below 
---
Interest rates have been decreasing especially today, and the home buying season has begun, leading to increased competition and bidding wars throughout January.
The data provided pertains to the averages for Pierce, Thurston, and Kitsap counties.  For more specific and localized results, it would be best to contact me directly for more information about a particular city or neighborhood.
Data pulled February 4th (MLS will continue to update which may fluctuate January numbers slightly .
Pending Sales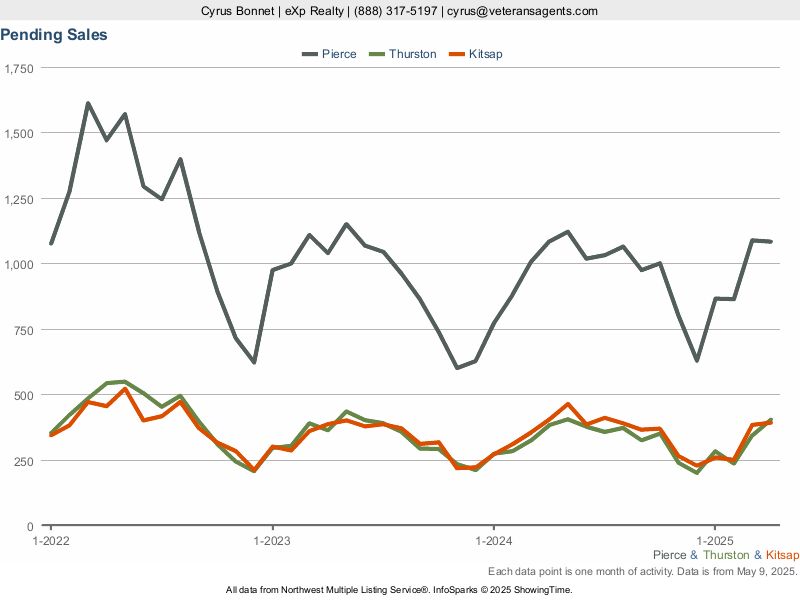 The data shows that the rate of increase in pending home sales in January was faster compared to previous years. However, the total number of pending sales from last year to this year has decreased in Thurston -6.5% and Kitsap county  -3.8% while Pierce county saw a slight increase of 1.1%, which is not considered a significant change.
Homes For Sale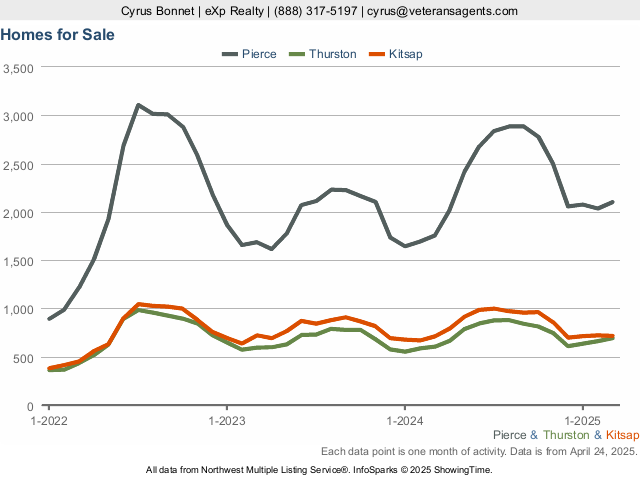 The data suggests that the number of active homes for sale has increased significantly in the past year in Pierce County 95.1%, Thurston 77% and Kitsap 72.4%. This means that there is a higher inventory of homes for sale in these areas.
Days on Market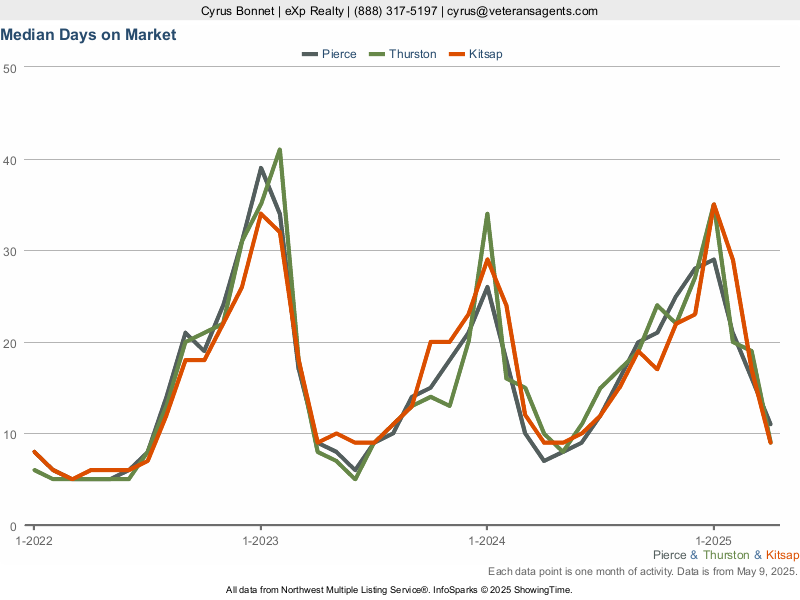 The data indicates that the average number of days a home stays on the market before being sold has increased significantly in the past year in Pierce County 39 DOM  (375%), Thurston County 37 (516%) and Kitsap County 35 (350%). This suggests that homes are staying on the market for a longer period of time before being sold.
List Price to Sale Price Ratio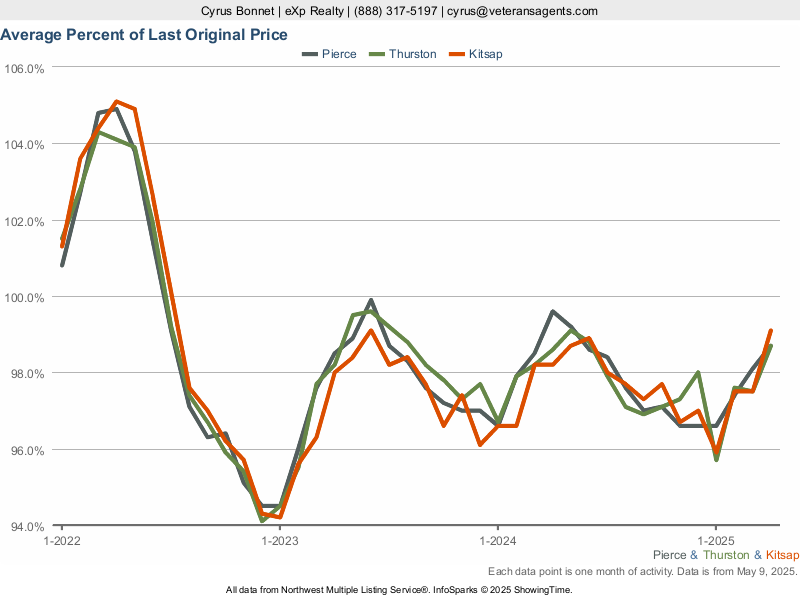 The data indicates that the average list-to-sales ratio has decreased significantly since May to just under 95% something we have not seen since 2015  under the listed price for all counties. This means that homes are being sold for less than the original asking price.
Average Sales Price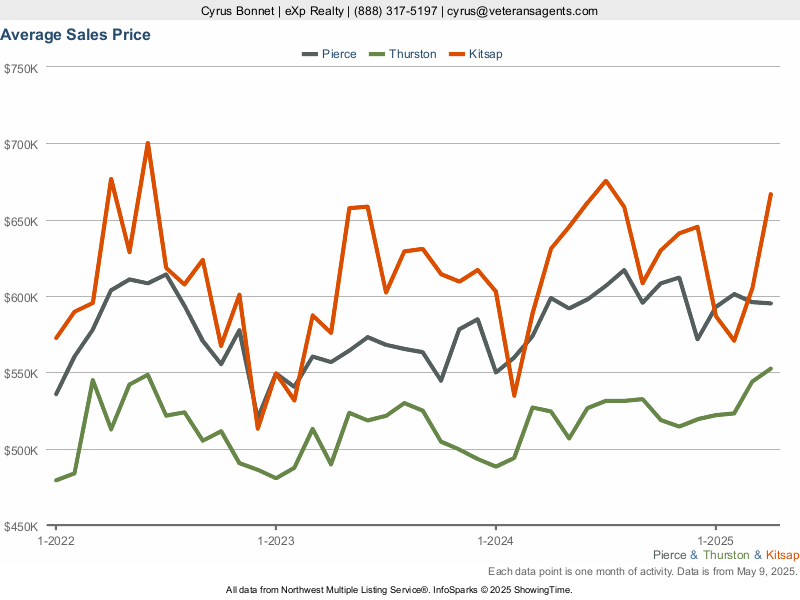 Despite the increase in inventory and the longer time homes are staying on the market, the average sales price has not seen a significant decrease. In fact, the average sales price has gone up in Pierce County (2.2%) $547,416, remained relatively unchanged in Thurston (-0.1%) $479,525, and decreased in Kitsap (-4.1%) $548,794. This suggests that the housing market in these areas is still relatively strong.
The current data suggests a downturn in the housing market since May, but the numbers for next month may show improvement. As interest rates continue to fall, pending sales go up and the buying season begins, it is expected that the average number of days a home stays on the market will decrease, sales prices will ease up, and the list-to-sales ratio will increase as we move into the buying season (Feb- May). Inventory may not increase immediately, but more inventory is expected to arrive in the mid and late spring and early summer, which is in line with historical trends.
---
Mortgage Rates Update +-
Interest rates have drop 1-1.5% percentage from all time highs this summer: however in perspective it is still over double the rate this time last year. We are expected to see rates drop according to many experts however we will likely not see rates come back down to their all time lows for a very long time. VA interest rates had a rather large drop today.
 Mouse over Interactive chart for today & past rates (Turn phones sideways)
---
Housing Headlines 
---
Personal Outlook
The increase in pending sales in January due and lower interest rates is a positive sign and aligns with traditional market patterns, with more intense activity usually seen in the spring. This suggests that the housing market may be rebounding, but it's important to monitor trends and market conditions closely to see if this rebound is sustained. The current correction in the markets is not uncommon, particularly in January and February, but it is too early to determine if it signals a sustained rebound. The lack of consistency in market performance over the past 8 months makes it challenging to predict future trends with a slowdown due to rising interest rates and fears of a recession. The predictions from economists are uncertain and lack confidence, leading to much adjustments and uncertainty in the market. Despite a shortage of homes in the US, new home sales may not be attractive due to the passing on of high costs to buyers. Resale homes may be a better option for both buyers and sellers in the current market. Interest rates are declining, but the market may still be uncertain for a while. The spring market will provide a clearer picture of buyer and seller behavior and whether interest rates will continue to decline or rise. It is widely believed that the market will not experience a housing bubble, unless there are unexpected disasters. The housing market is expected to rebound when interest rates decrease and recession fears subside, and buyers and sellers are eager to enter the market.
In conclusion, starting a home purchase or sale can be an exciting yet overwhelming experience. However, with us by your side, you can rest assured that you will have the support and guidance needed to achieve your real estate goals successfully. We are proud to offer leading expertise and knowledge in the industry to ensure a smooth and successful transaction.
Cyrus & Jenna
Connect with us
253-766-5133